SmartArch fits in your practice
SmartArch wires feature the constant force-displacement property of superelastic archwires while adding precision control over wire stiffness in each interbracket region. One SmartArch wire replaces all round superelastic archwire progressions typically used for 1st and 2nd order corrections. SmartArch is recommended for any case in which a light superelastic wire would be inserted to begin treatment. Best performance is expected when the archwire is engaged no more than 5 mm.
Fits within your current workflow
SmartArch wires work with most bracket and hook systems you already use. Self-ligating bracket systems are recommended when reduced friction is desired, but conventional brackets may also be used.
Ready out of the box
SmartArch wires are chairside and ready to be installed without any impressions, scans, fixtures, or off-site wire bending. No special systems, equipment, or training is required. The Universal force profile is designed to work with most mild to moderately severe cases.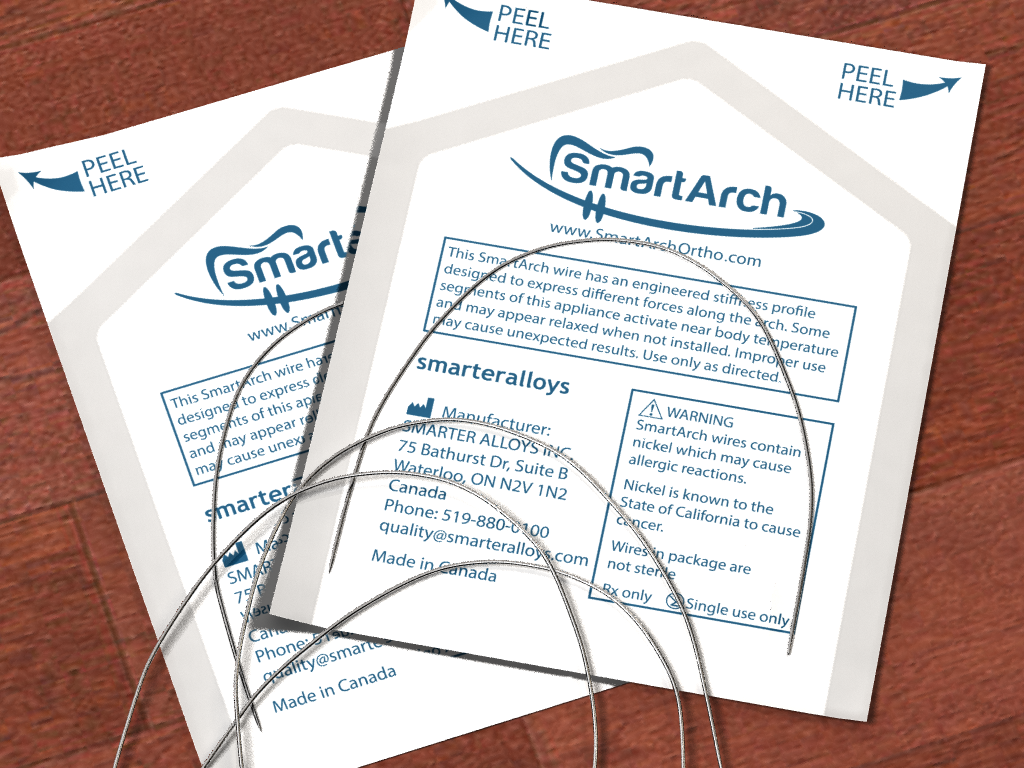 Recommended use
Metal brackets with a 0.022 in slot are recommended.
Start by inserting the wire in the bracket slot of the tooth that is displaced furthest from the ideal archform, progressively inserting teeth following the same criterion.
Keep the midline of the archwire coincident with the treatment midline you have chosen and make corrections by sliding the archwire mesio-distally as you insert the archwire in the slots. This ensures the SmartArch force profile remains aligned to each tooth.
Use a ligature director to push the wire into the slot. An icing spray on the tip of the instrument to cool it down will help facilitate insertion.
Always fully activate the archwire before inserting into the slot to ensure optimal unloading force.